Join Beautiful North Wales Today!
Get your business listed today with Award Winning Marketing and turn on a constant stream of the highest quality visitors who are ready to make a buying decision for their trip to North Wales. We are based locally and care about North Wales.
Two for the Price of One!
In addition to a listing on www.beautiful-northwales.com , you will also get a listing on one of 4 North Wales area specific websites. These are :
(The site your extra listing is shown on is dependant on where your business is located).
How much does it cost?
Costs to join the Network are very reasonable and designed to offer a compelling return on your investment. Call us now and we will explain how we can make your inclusion on th Beautiful North Wales Network really work for you. We believe in producing powerrful marketing that delivers results.
How do I know the network will work for me?
At all times you will be able to check how well your entry is doing. On all entries you will see two numbers in grey at the bottom of your page. The first number is referrals to your website and the second is the number of time your entry has been viewed. If in any doubt check out a similar listing to your own on the site. There are three ways a customer may use the site to contact you - from the summary on search results, your full page listing on our network and a click through to your own website via the weblink.

To get your business listed, please email info@beautiful-northwales.com or contact either of the following.
Livetech,
16 Trinity Square
Llandudno
LL30 2RB
Web Marketing, Software Development, Apps and Web Design.
Tel. 01492 581131
About Us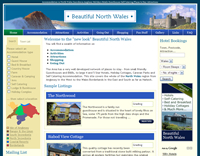 Two Top North Wales I.T. Companies have come together to produce an innovative, marketing initiative.
Your website will be visible via our sites and be found on the first pages of the top search engines for all the main tourism related search terms. This will ensure that high numbers of people who are planning to visit North Wales will have the chance to see what you offer.